Granary Holidays – Mole Mayhem
For those who follow us on Facebook, you will know we were having trouble with a mole on our Tennis Court. Not the best start to the season, but after two weeks we are now back in control and the mole is no longer a problem!  The mole hills have more than filled a wheelbarrow. The court has now been repaired and ready for play.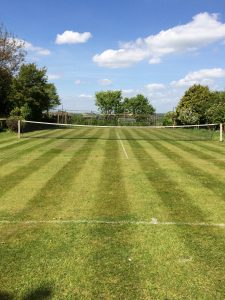 May ment the start of the York Races with 9 meetings on the card this year.  June meeting dates are Friday 16th and Saturday 17th.  The July meeting on the 1st is followed by a concert from Olly Murs.  For all the race meeting dates visit www.yorkracecourse.co.uk
Whilst I was taking Sandy for an early evening walk in the field just behind The Mistal, I noticed some ears poking up through the long grass ahead of us,  thinking it was a hare with extra big ears, I slowed down.  Next thing a head appears of a deer, it was minding its own business resting.  Once it heard us it got up and went into the crop of barley, which was so tall once it had stopped I couldn't see it.  I caught it up again at which point it went bouncing off up towards the wood.  We see Deer regularly around here but not usually as close. The Deer is in the centre of the picture below.
After being fully booked through April, May changed back to weekend breaks in The Granary and The Mistal was very quiet, which gave us chance to fine tune a few things before we really get going with the season from the May Bank holiday weekend on wards.  The Mistal is almost fully booked from the May Bank holiday, right through to the end of September.  The Granary has availability in June, one week in early July and a rare week in August.
I think the garden has had its best year yet since we moved here 5 years ago.  With little rain and wind, all the flowers have lasted so much longer which is such a bonus.
Recent sunsets have been amazing, especially the pink sunset a couple of weeks back. I just happened to catch sight of it just before it disappeared behind the trees so grabbed the camera and went running out. Simon, Oliver and Sandy the dog are now getting use to me suddenly running off or stopping in my tracks to take a picture of something interesting for the social media posts.
We visited our local pub The Bay Horse Real Ale House for lunch.  To say it was a Tuesday lunch time it steadily filled with diners.  As much as I wanted a pudding, I just couldn't fit one in after the huge first course.
Malton's newest foodie initiative launches this Sunday the 4th June at 11.00 am to 3.00 pm, 'Street Food Sundays' in the Market place.  If you enjoy alfresco dining then this will be worth a visit.
The next Food Lovers Market in Malton is Saturday 10th June where you can buy seasonal food and watch live cooking.  They take place every 2nd Saturday of the month.  Visit www.maltonyorkshire.co.uk for more information.
Other events taking place in June are The Yorkshire Post Motor Show and Classic Car Rally at Castle Howard near Malton on 18th, Rick Astley in concert at Dalby Forest on 23rd June.  Early July we have Duncombe Park Engine and Steam Rally, Helmsley taking place on the 1st and 2nd and also on the 2nd is Malton Show in the beautiful grounds of Scampston Park.  It's not really surprising Yorkshire is in the Telegraphs top 10 best places to visit in  England.