Our guest books in both cottages are full of lovely comments so we have picked out just a few.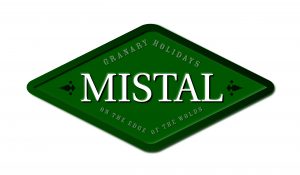 Mistal
Excellent accommodation A beautiful location and excellent property. Ideal spot in quiet location great for exploring East Yorkshire and the coast  –  Jean R – 08.05.21
Me and my family have had a great time here at the Mistal. We have enjoyed playing in the garden which is perfect for playing many games.  The size of the house is brilliant for four people and the extra space of the conservatory  which was used a lot.
The location of this cottage is just right because you are in the countryside. With lovely views but not too far away from York City which we visited many times to go to The Dungeons, the National Railway Museum and to have a train ride.  Also a big thank you to you for the basket of goodies which we were surprised to come into.  Me and my brother especially liked the eggs.  So thank you again –  Finley, aged 9
The Mistal looked lovely online but was even better in real life! Very clean and comfortable (we loved the recliner sofa!) We loved the quiet location too and it was an excellent base for touring the area.  Thank you Sarah, for the welcome pack which was very thoughtful.  We hope to return – Fiona and Ashley
Thank you so much for another fabulous holiday. It was yet again relaxing.  We are getting to know the area better and have cycled a few small routes (with hills).  Jolly Farmers pub is great for food, Blacksmiths Arms is another.  Everything about this cottage is so lovely.  We have booked again for next year! Thanks again for letting us stay  –  Graham & Sue.
This is without doubt the most spacious and best equipped cottage we have ever stayed in. We had more clothes hangers here than in the last 3 cottages we have stayed in put together.  The gardens, play area and tennis court were all well used, this was helped by the good weather we also enjoyed.  A lovely cottage, in a beautiful spot, thanks for having us  –  Bob, Denise & Sophie.
Granary
Countryside escape Lovely property! Very roomy with every kitchen accessory you could want. Absolutely beautiful garden with loads of space for children to run around. We will be returning – Rebecca H. –  12.06.21
Beautiful location, excellent property and an ideal escape from urban mayhem! "The Granary" is stunning, a really special place to stay! Immaculately presented and with many period features, the "Granary" is superb! The added bonus of views across the farmland and up towards the wooded hills are breath taking and really connect you with nature.  To see a Hare in the field right outside your window and the joy of listening to birdsong in the morning makes you realise how special this place is. The peace and quiet throughout the day and into the late evening makes for very calming, restful and happy times.  The games room with a pool table and play station ticked all the right boxes too! Don't forget the stunning sunsets!  Wow, so beautiful! We thoroughly enjoyed our stay and cannot fault the property or the owners-they have done a stunning job creating an ambience and feeling of being at "home". The property is very well appointed, and we found everything we needed.  Ideally situated, with Malton only a short drive away and easy access to York, you couldn't ask for more.  Highly recommended and we can't wait to come back. Guy W 01.05.21
Much needed home from home relaxing stay The Granary had a rustic charm about it. A lovely welcome pack was left for us with a full basket of logs left for us to use on the log burner.  Excellent covid 19 precautions put in place, plenty of hand gel, hand soap to use. Clean fresh bedding and towels. The house is roomy yet cosy. The countryside is beautiful, local pubs very good. Lots of places to visit within an hour or less. A great place to stay. Tessa E – 17.10.21
Our 22nd Easter stay As brilliant as ever, especially the first weeks weather.  Many thanks for all the goodies and for all your efforts to make this a truly brilliant holiday home.  Best wishes – See you in the summer.  The Evans Family. 2019
A wonderful week at the Granary barn celebrating family special birthdays!!   The Weather was great for us to enjoy the beautiful scenery around the Granary.  The Granary was great for a family get together!  With all the wonderful facilities.  Thank you, Sarah, for the goodies provided.  We had a great time – Joy & Family.
Thank you so much for a lovely stay. The Granary is certainly a place we would return to and recommend to friends and family.   It goes the extra mile in supplying everything you may need or have forgotten.  Thank you very much – The Preston Family.
What a wonderful place to stay. The kids have all really enjoyed the playroom and fabulous garden.  Wonderful day trips and to the coast and into York.  We hope to come back one day – Amy, Daniel & Benjamin.